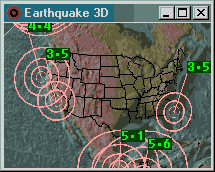 ANIMATE AND CONTROL... Adjust and customize the display to see Earthquakes in a variety of different ways. Filter Earthquakes by size and time – then select from many display options that include quake indicators and map references. Earthquakes are shown in near real-time using the latest data from the USGS via the internet.
Earthquake 3D is FREE! Download it and use it NOW! No complicated setup or installation. Just unzip it and it's ready to go.
FREE EDITION
This is a fully functional evaluation version of Earthquake 3D. There are no nag screens, adware, spyware, trial periods, tracking, or complicated user agreements. No pestware of any kind.
Version 2.91 – (1.1 Mbyte )
ENHANCED EDITION
Although EARTHQUAKE 3D is free, an enhanced version is also available. The enhanced edition is the most up to date version of this program and it contains many features that are not found in the free version. Enhancements include: up to 30 days of Earthquakes, more data sources including USGS, EMSC, Geoscience, GeoNet, BGS, Geophon, and user supplied CSV data, four different Earth Images with better detail, automatic data updating timer, Earthquake Alert Sounds with custom WAV file support, 'point and click' Earthquake Identification, six different View Preset Buttons, custom External Earth Images, Custom Colors, Lunar and Solar positions, Captions, and more... More details and Screenshots >>>